96sqm – King Bed – Kitchen – Dining – Connecting Room – VR TOUR
Our apartments are designed to be an uncompromising home away from home, and are perfect for extended stays – for one week, one month or even a year. The 96sqm Premium Apartments offer a stylish en-suite with bath tub and walk in shower, fully-equipped kitchen, high ceilings, spacious walk-in closets, 55″ LED TV's in the lounge and 49" in the bedroom. The oversized lounge and kitchen with dining area is the perfect place to entertain; allow one of our culinary team to expertly cook your favourite local dishes for you and your friends to enjoy. All of our Premium Apartments can interconnect to a Twin bedded room, extending the apartment to a two bedroom 140sqm living space.
Experience Bangkok in luxurious comfort from one of our spacious Premium Apartments.
PREMIUM APARTMENT FEATURES
Room size : 95sqm
Fully-equipped kitchen
Dining Space for 6 persons
Whirlpool bath
Washing machine
Connecting room available
ALWAYS INCLUDED
Complimentary high-speed Wi-Fi
49″ LED TV
Luxury marble bathroom featuring bespoke amenities.
Hair dryer
Lancaster bathrobes & linen.
Tea- and coffee-making facilities
Minibar
Refrigerator
Microwave
Kitchenware
Washing machine
Storage space
Complimentary shoe shining service
Evening turndown service
Universal pin plug sockets
In-room safe
In-room tablet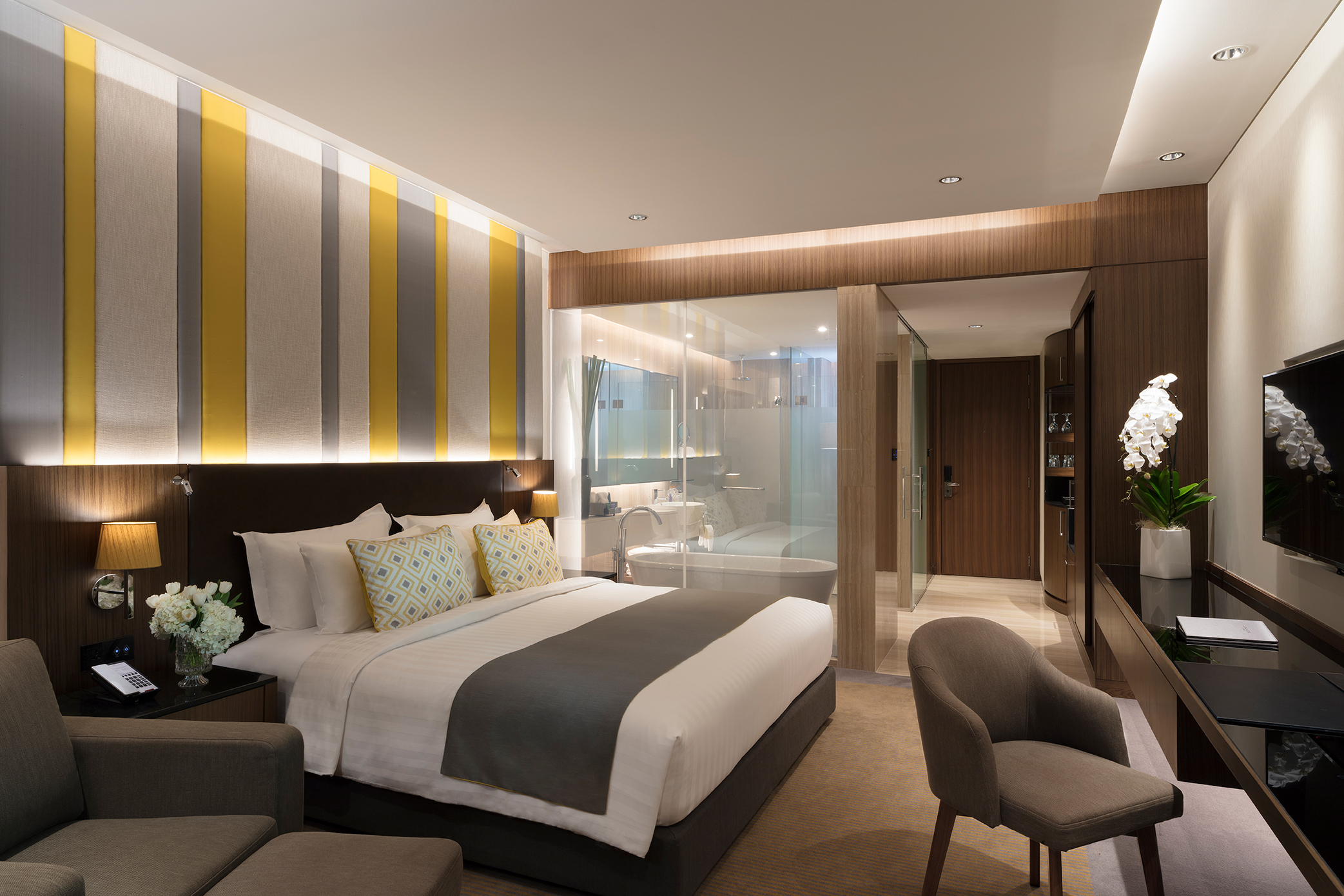 يحتوي جناحينا على كل ما تحتاجه لإقامة استثنائية. يجمع كل جناح بين التصميمات الداخلية المعاصرة مع كل وسائل الراحة الحديثة في جناح 90 متر مربع مجهز بشكل جميل. استرخِ في هدوء حديقتك الخاصة الحميمة مع إطلالات شاهقة على منطقة ماكاسان. إذا استطعت أن تبتعد عن المناظر الجميلة ، فإن الجناح الفسيح يتميز أيضًا بسرير كينغ ناعم للغاية ، وتلفزيون بشاشة كبيرة ، ومركز ترفيهي ، ومطبخ مجهز جيدًا.
read more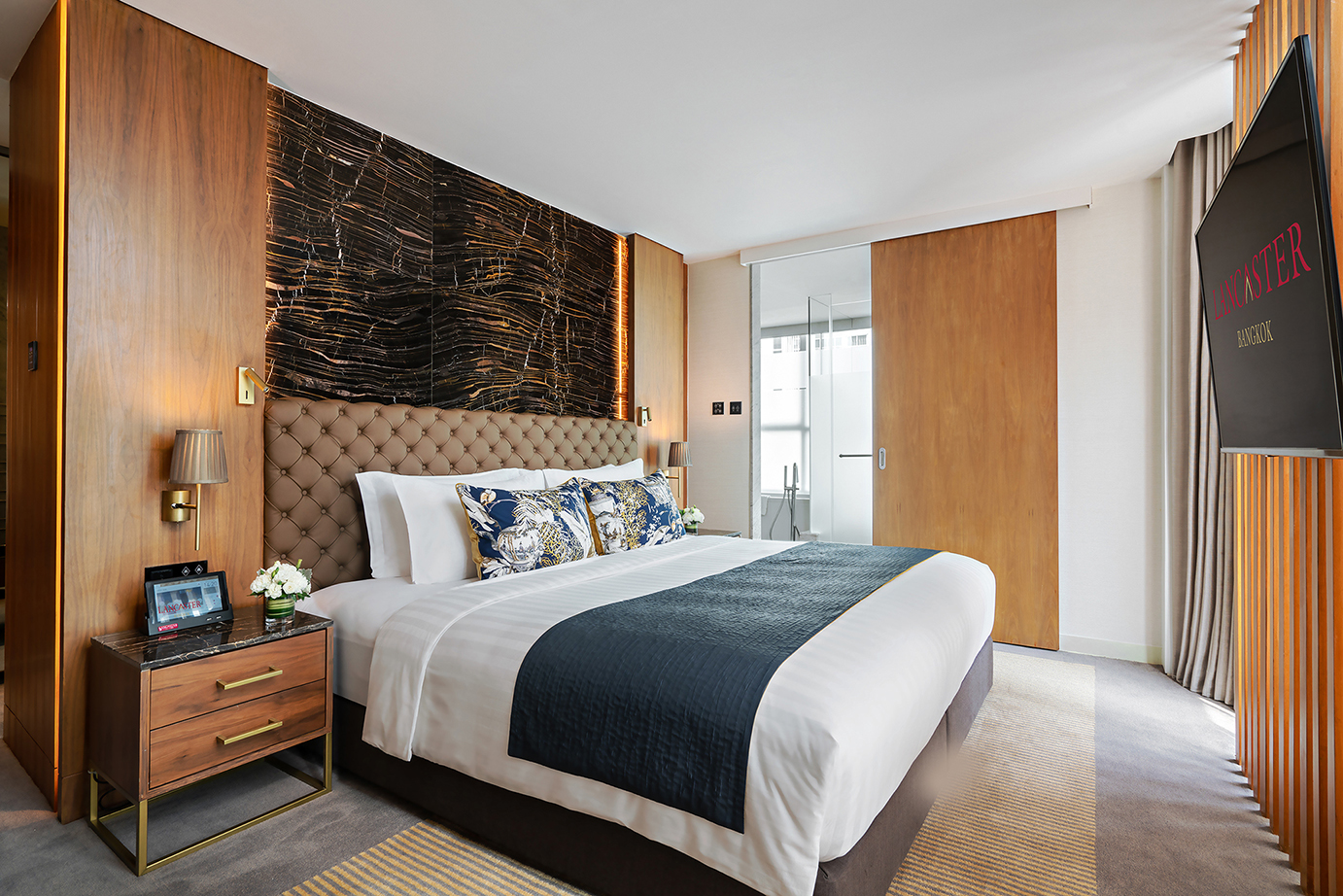 وللحصول على أقصى درجات الرفاهية ، نقدم لكم أكثر تجربة راقية تفاخرًا منا . وتاتى مع صالة فخمة ومطبخ مجهز بالكامل ومنطقة مخصصه لتناول الطعام ، بالضافة الى غرفتي نوم وحمامان. تحتوي غرفة النوم الرئيسية على حمام كبير الحجم مع حمام جاكوزى وأغراض مزدوجة ، في حين تحتوي الغرفة المزدوجة ذات السرير المزدوج على حمام داخلي خاص بها مع مقصورة بها دش.
read more
THAI HOSPITALITY
Lancaster Bangkok offers an authentic Thai experience with impeccable hospitality and provides guests with all the comforts they would expect of a luxurious international 5 star hotel.
The Siam Brasserie restaurant offers guests a choice of two menus, both international and traditional Thai. to health and wellness, a fully staffed gym with personal trainer and a rooftop pool and bar providing an open-air space from which our guests can  The Lancaster Bar serves cocktails relax and enjoy the evening.